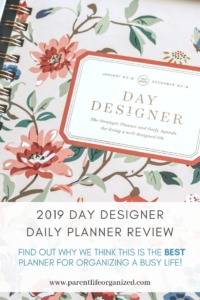 I am a bit of a planner enthusiast. I love to see my days written out on paper, and plan for the weeks and months ahead.
There are SO many planner options that are available out there today, and I have tried a good deal of them! This year I decided to change it up and order a daily planner, which basically just means that you get an entire page for just one day! (except Saturday and Sunday share a page)
I was getting to the point where I had so much going on in any given day, that weekly planners just weren't cuttin' it anymore. I ordered the Day Designer planner for the year of 2019 – 2020, and I have been extremely happy with it!
So here it is, my 2019 Day Designer Planner Review… because it simply must be shared with the world!
This blog post may contain affiliate links. These links provide me with a small percentage commission, with absolutely no extra cost to you.
---
What does Day Designer have to offer?
There are a few different versions of planners that Day Designer offers. They have the original daily planner, (which is what I have, and the one I will be focusing on in this review…cuuuzz it's the best.) they have non-dated today and to-do planners, refillable planners, (which are essentially print outs that go into a pretty binder) and they have weekly and monthly style planners/calendars.
*Super fun accessories are available for every style planner as well.
The daily planner is my favorite, hands down, and there are several different amazing cover designs to choose from!
In this post I am going to show you exactly why that is, and why you kinda need this planner in your life!
---
Daily Planner Features
This planner comes in two different sizes. The original size, which is what I have, (the bigger the better right??) and a mini edition.
Original Style Dimensions – Overall: 9″ wide x 9.75″ tall
Page Dimensions:7.3″ wide x 9.5″ tall
Depth:1.5″ (Including the binding)
Weight: 2.5 lbs.
Mini Edition Dimensions – Overall: 6.625" wide x 8.3" tall
Page Dimensions: 6" wide x 8.125" tall
Depth: 1.5″ (Including the binding)
Weight: 1.7 lbs.
Other Features include:
90 GSM White Paper
Daily Planning Pages with Hourly Scheduling from 5 a.m. to 9 p.m. (mini edition is 7am-7pm)
Today, To-Do, Dinner, Gratitude, Top 3 To-Do Prompts, Notes and more!
Goal Setting Worksheets to Help You Achieve Your Dreams
Daily Inspirational Quotes
Combined Weekend Pages with Weekly Overview
Dated Monthly Tabs
Two-Page Monthly Overviews with a Monday Start Day for Each Week
Two-Page 2019 Yearly Overview with a Monday Start Day for Each Week
Daily and Monthly Pages Marked with U.S. holidays
Printed Grey Text to Avoid Stark Contrast
Durable Hard Cover
Fun-Colored Cover Liner with Inside Front Cover Pocket for Added Functionality
Protective Gold Corners
Sophisticated Gold Wire-O Binding
Tear-Out Pages in the Front and Back of Planner to Protect Inside Pages
---

What I personally love about this Planner…
1. The hard cover!! I L.O.V.E this feature! So many other planners on the market have soft or laminated covers that are flexible. I don't mind that style, but I prefer the hard cover on the day designer. It does make it a little bulkier and slightly heavy compared to most planners, but it also makes it WAY more durable, and in my opinion, it just looks neater and more professional as well. I have two small children that I am running around with all day so I need something sturdy to get me through a whole year!
2. The goal setting worksheet in the beginning of the planner is a HUGE bonus. I love filling it out, and creating goals, that I plan on reaching in the upcoming weeks, and then for the year as a whole. I am constantly going back to this worksheet to reassess my goals, and make sure that I am staying on track.
3. There is one WHOLE PAGE for each day!! (except the weekends, which share a page, but that is ok for me) This is my FAVORITE part about this planner. Now that I work from home running the blog, and still do some hair part-time, it is essential that I have a whole page to work with for every week day. This setup keeps my schedule 10x more organized and allows my brain to be able to focus on the day, and the to-do list in front of me, instead of the entire week. (which can seriously stress me out.)
4. If you are a lover of lists, you will adore this planner as much as I do! Each page has a large section solely for your to-do list. This is a big deal for me. If you're smack-dab in the middle of motherhood, you understand… there is just SO MUCH TO DO. This section has been a tremendous help for my "mom-brain" to remember everything that I need to get done for the day.
5. The daily inspirational quote included on each page. I really love these for some reason. I think it is because they are not just some silly, cutesy, quote. They are actual quotes, mostly by super inspirational people, and they have real depth to them. They always make me smile and give me determination to work harder.
6. The fact that the hourly scheduling starts at 5am. This is hard to find! Now, I'll admit, it is a bit rare that I am up as early as 5:00am… the butt crack of dawn is not my favorite part of the day… but there are days that it is necessary, or that a child of mine decides that it is necessary, and for this reason, I am glad that it is there.
Plus, when my daughter starts school in the fall, 5:00AM may have to become the regular wake-up time for me… Ugh. Bummer man.
7. I love the fact that there are separate, designated sections for your schedule, to-do list, bills that are due, daily gratitude, dinner plans, notes, etc. This one is a little hard for me to explain, but I'm going to do my best and I will include pictures below to show what I mean as well.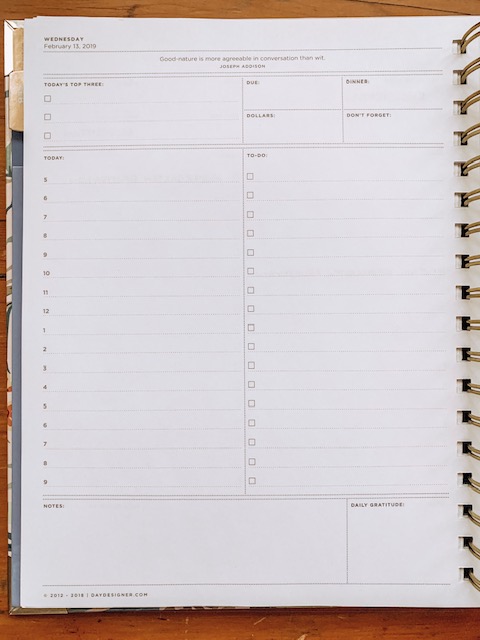 Many planners are set up as a weekly lay out that have different empty sections for you to write out your plans for the day. A lot of them do not have designated sections for things, so you end up having to write it out somewhere or use stickers to help you organize and remember what needs to get done… For example, many times I would forget to write down what bills are due in that style planner, because there was no specific section that said "DUE:" Instead, I would have to use a sticker on that page that said "DUE:" which was just one more thing to remember!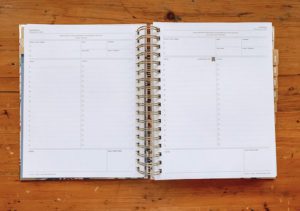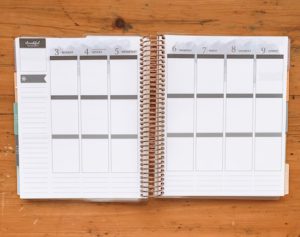 Stickers are fun and all, but ladies… raise your hand if you don't got time for that biz-natch… Ya. Me Neither.
I've tried that style planner and I ended up spending more time getting those stinken stickers organized and in place than I spent planning!! Which, like, is kind of the whole point of a planner… you know?? To PLAN.
The Day Designer Daily Planner already has those sections placed perfectly for you on each page. All you need to do is fill them out with your favorite planner pens. (These are my favorite pens. They don't bleed through, and they write beautifully smooth.)

If you still want to add a few inspirational, pretty-to-look-at stickers, Go For It Girl!! But at least with the day designer, you don't have to depend on them to keep your planner organized.
I hope that made sense!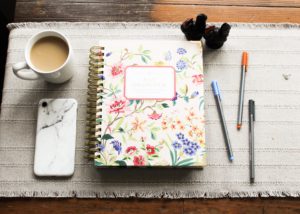 If you'd like to read more about how I set up my Day Designer for the year, check out this post! ———–> How to Organize your Daily Planner and take Charge of your Life!
---
Downside to the Day Designer
Honestly guys, in my opinion, there hardly is a downside to this planner. I love it that much.
But. If I had to pick a few things, it would be these:
1. I mentioned this above, but I will say it again, this planner is a bit bulky/heavy. Because it gives you an entire page for your week days, it is naturally going to be thicker than your average planner. Plus, the additional pages and hard cover make it slightly heavier than most planners.
Honestly, this isn't really a problem for me, but if you think it would be for you, then I suggest trying out the mini edition instead!
2. I wish the daily scheduling went a little later than 9:00PM. I typically end my days around midnight. So, for me, a few extra hours in the evening would be nice to have available for planning, but it is not a deal breaker.
Typically, I spend 9:00PM-12:00AM working on the blog, so I just write – "work on blog until 12:00AM" in the 9:00PM slot, and I include specifics of what I will be working on in the To-Do list section.
Badda-Bing Badda-Boom. Problem solved.
---
So there it is ladies…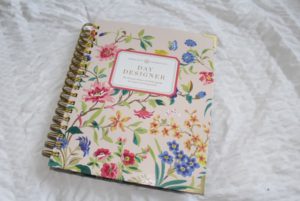 My top reasons why I highly recommend this planner. Especially for those of you that find your schedule to be too over-bearing to look at in an entire week format. This planner breaks it down to each day. Which, again, is my favorite part.
Conquering small daily goals is a VERY important, and necessary step to accomplishing your larger weekly goals, and then ultimately reaching your dream goals.
If you are convinced that this planner needs to become part of your life, click here to go to the website and shop your heart out! When your planner arrives, let me know how you like it in the comments below!
I am so curious to find out if you are as ecstatic about it as I am.
Remember to take life one day at a time my friends… enjoy the journey, and kick some serious butt!!
---
Never miss a post…
---
Other Posts I think you'll enjoy!
---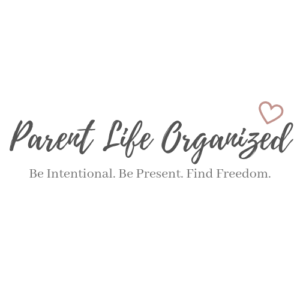 Love this content? Please share on social media 🙂 -