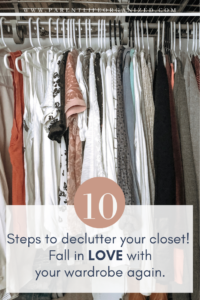 We all know how amazing it feels to purge right? Just stinken' getting rid of clutter! It's like listening to your favorite song, or tasting your favorite sweet treat…
It's just SO GOOD.
But maybe you have a hard time getting rid of things, maybe your closet looks like a cotton-poly blend volcano erupted all over your pile of shoes?
If that's you and you're not sure where to begin, you've come to the right place!
Today we are going to give you 10 tips for getting rid of closet clutter, and teach you how to LOVE your closet space, and your wardrobe that is in it.
This blog post may contain affiliate links. These links provide me with a small percentage commission, with absolutely no extra cost to you.
---
CLOTHING.
The stuff that just seems to pile up in every room of the house. There is dirty laundry, clean laundry, folded laundry, that pile of mini-person clothing heaped in the middle of the kitchen floor because said tiny person suddenly decided running around butt-naked sounded like a good time… and then, there are closets, and dressers, that are often Full. Of. More. Clothes.
It can be extremely overwhelming, and the thought of tackling it, and de-cluttering the clothing monster can be paralyzing for some.
I'm here to help you with that. I used to be that person. I held on to every single piece of clothing because "what if I need it some day!?" or "If I just lose this extra 10lbs, I will be able to fit into this again."
But here's the thing guys… Living for the future is exhausting, depressing, stressful, and can cause major discontentment.
Today is today. Now is now. Live in the present. I promise it's easier, and you will find so much more joy in the "every day grind" if you aren't constantly saving things for possible future use, or living for the weekends, or just trudging through life until your next vacation.
COME ON GUYS!
First of all, we are never promised tomorrow. So be thankful for today. Second, there is so much more to life then just waiting for the next best thing.
So, let's tackle this together and create a wardrobe you love, k?
OK. Cool.
---
10 Tips towards a de-cluttered wardrobe space
1. Pretend you're going out on a date.
Weird advice, right?? Like, I am about to dishevel my entire closet space, but suddenly it's date night??
Well, Kind of…
First of all, this is going to take a while, so if you've got kids, send them to Grandma's house or hire a babysitter, or ask hubby or wifey to take them somewhere for a few hours.
Cause you my friend, are getting ready for a date… With yo' wardrobe.
It sounds silly but take this part seriously! Go all out.
I'm talkin' take yourself a lovely shower, do your hair and makeup so you're lookin' all fresh, and slap on your favorite undergarments and jewelry. (Men, if you're reading this, do your hair and wear your favorite watch and/or stylish glasses.)
Why go to all this trouble?
Cause you deserve it. Duh…
But… I'll also give you another reason in step #3.
---
2. TAKE EVERYTHING OUT OF YOUR CLOSET.
That's right. Everything. Every piece of clothing that you own. Take it out and put it on your bed.
This is the absolute best way to start a major closet purge. It is overwhelming at first, but it is 100% worth it.
So, make sure you've got your babysitter in place… I wasn't joking… because this could take some serious time if you have a lot of clothing. You need to not be rushed, and truly do this process right!
Sometimes things need to get worse before they get better.
---
3. TRY EVERYTHING ON.
Don't cheat! This is something that needs to happen! Pull out a full-length mirror and have a fashion show starring you.
The only times you're allowed to skip trying something on is if:
You KNOW in your knower that this thing just ain't gunna fit… Easy. Donate.
If you know, without trying it on, that you no longer like it… Also Easy. Donate pile.
You have worn the item recently and you know that you LOVE IT… Cool. Keep it!
Everything else needs to be tried on.
THIS is why I want you looking like you're ready for a hot date. It is SO much easier to decide if you like the way a piece of clothing looks on you, if you are feeling your very best in every other way too.
So, if you're looking straight up sexy, yet still feeling iffy about a piece? Then hunny… It is time to say goodbye, because that garment no longer deserves your fine self.
Kick it to the curb!
---
4. Make three piles.
While you are "dating" your clothes and deciding who is worthy of your love, start creating four different piles to make the process easier for you.
You will need a LOVE IT pile.
These are the pieces that make you smile as soon as you pick them up. You feel wonderful in them, the materials are lovely and comfortable, they complement your figure/physique and fit perfectly, and you would DEF wear them tomorrow night on a real date.
You will also need a MAYBE pile.
These are items that you still really like, but something feels off about them. They might be out of style, a funky pattern, a bright color that doesn't go with a lot, or you're not sure if it goes with your hair color and/or skin tone. Stick these babies in a bin, box, or bag, (I use these Ikea bags and store them on a metal hanging rack in the garage) and put them out of sight.


*Note – You are allowed to steal back out of the MAYBE bag if you keep thinking about a piece that is in there, but the deal is, after 6 months goes by, you gotta donate that bag. If you don't like it enough to miss it in 6 months, then it is time to break it off and say goodbye.
The third pile is a sorry not sorry, BREAK UP pile.
These are the pieces you try on that just don't fit the bill anymore. They might be stained or torn, too big or too small, way outdated, or just not your personal style anymore.
Recognize that you may have had some good times together in the past, be thankful for those times, and then let it go.
The goal is to only have pieces that you absolutely ADORE left in your closet.
*Note – Personally, I do not pack away seasonal pieces, but if you prefer to, you might want to have a 4th pile for seasonal pieces you love, and put them in a bag/box until you are ready to wear them.
---
5. If necessary, downsize even further.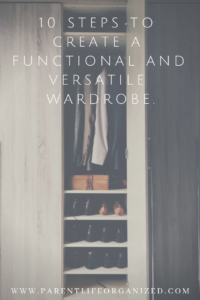 If you are finding that there are still A LOT of pieces that you think you love, and you'd like to downsize even more, think about how much you have worn each piece, and if it goes with other pieces in your wardrobe.
For example, I have a sweater addiction. I live in the North East, and it's cold here at least 7 months out of the year. Ugh.
So ya, I like sweaters.
If I find that I need to downsize my sweater collection, but I have a lot that I love, then I spread them all out on my bed and say to myself… "If I had the choice of all of these sweaters every single day, and none of them were ever dirty or lost in one of those laundry piles, which ones would I find myself grabbing again and again, and which ones go best with the other items that I already own?" I also ask myself… "If I was trying this item on in a store right now, would I buy it again?"
This method has never failed in helping me to downsize even further. I typically put the sweaters that I weed out into my MAYBE bag, and if they are still there when warm weather (finally) rolls around, then I give them away.
To put it simply, if you own less, you will spend less time deciding what to wear each day, and your closet will look cleaner, and be more organized. You will find that less is actually more. Especially if you choose your pieces wisely, so they can mix and match with many other items in your closet.
---
6. Refill your closet with your favorite pieces and make it pretty.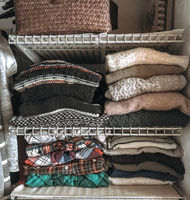 Hang everything back up with MATCHING or color-coded clothes hangers. Fold items neatly and put similar colors near each other.
Even if you don't have an incredible walk in closet with LED lighting, drawers, hooks, and other cool gadgets, organizing your clothing by color and style, and using matching clothes hangers, goes a LONG way in making your closet look lovely and inviting.
I like to use white hangers for tops, black hangers for dresses, and I fold my sweaters and place them neatly on the shelves. If you don't have shelving in your closet and you'd like a quick, easy, and affordable fix to that, purchase one of THESE hanging shelf organizers. My husband uses one for his sweaters and shoes, and I used one in the past as well when we lived in a house that did not have closet shelving available.

Oh, and just say no to wire hangers…
Just say no.
---
7. Breathe.
Is this whole process hard for you?
Some people have a really hard time letting things go. Especially if they are in like-new condition, or if it was expensive, or a gift from someone special.
But reality is, if you don't love it, then you'll never wear it, and if you don't want it, then you certainly don't need it, so it is just taking up space and bringing unnecessary clutter and stress to your life. Giving it to someone who needs it will make you feel SO much better than letting it waste away in the back of your closet. I PROMISE.
Remember, we are living in the present. Living for TODAY.
Take a deep breath and go for it. You will love the way you feel and the way your closet looks when you are done.
*Note – If you need a good resource to help you get a handle of your clutter, read Marie Condo's book "The Life-Changing Magic of Tidying Up." and watch her show on Netflix. It's all the rage right now.
---
8. You need to actually donate those clothes…
Don't forget to follow through with this step. It is easy to throw everything in the garage and forget about it… which is just causing more clutter in a different area of your house!
Get it in the back of your car and get it out of your life as soon as possible.
You don't need that baggage anymore!
BUH-bye.
---
9. Nail down your personal style.
Now that your closet is beautifully organized and you have a new-found love for your existing wardrobe, it is time to really nail down your style. (If you haven't already.)
Allow yourself some Pinterest time to save outfit ideas that you love, and that make sense for your lifestyle. If you are a stay at home mom, you might not want to save too many outfits consisting of blazers and heels, and if you are a full-time lawyer, you should probably avoid most of the trending athleisure looks.
It's ok if you own a few pieces like this, that aren't generally what you wear on a day to day basis, but for the most part, you need to be realistic, and look at the outfits that will actually work for your life.
You can also get inspiration from Instagram accounts, magazines, and fashion/style blogs as well!
Make notes or save pictures of staple pieces you'd like to add to your wardrobe. Functionality and versatility are key! If you will use it a lot, and it can mesh with many other items, chances are it will stay in your closet for a very long time.
---
10. Shop for other pieces to complete your wardrobe when needed.
After you purge your entire closet, my advice to you would be to try to live off your current wardrobe for a few months before you go adding anything else. It will teach you to be more versatile with what you already have, and you will also learn to be thankful for your clothing.
It is important to practice contentment, and not to constantly want for more. After all, that is how a closet gets out of control in the first place!
(If you struggle with consumerism and practicing contentment, check out this post for strategies to help you learn to be content)
If you find you need a few more pieces, or you've saved some money to take a special shopping trip for yourself, then make sure you bring your list with you of those pieces you're dying to add to your closet.
This will keep you on track, and hopefully discourage you from impulsively buying things that you DON'T really want or need.
Instead, you will make intentional decisions, to better your wardrobe, and you will continue to love your closet and everything in it!
---
Need Help Perfecting Your Wardrobe?
If you are having trouble finding a personal style that really fits you, or you're not entirely sure what looks good on you, or you'd like to try some new pieces with your current wardrobe without the pressure to purchase anything, then you have got to try either Trunk Club or Stitch Fix!!
I have tried these services, and highly recommend them both.
Trunk Club is a Nordstrom owned personal shopping site. When you sign up, a personal stylist will be assigned to you, and they will work with you, ask questions, learn your budget, and view your Pinterest style boards (if you'd like them to) so they can get a better idea of what you like, and what you need. You can request certain pieces, like a leather jacket, or work out leggings, and they will do the work of picking a piece that they believe will work well for your size, shape, fashion preferences, and lifestyle.
Your personal shopper will send you a box of 8-12 pieces that they pick just for you, and you get to play fashion show again in the comfort of your own home! Anything that you do not want to keep, you send back within 5 days with a return slip that they include right in the box for you.
There is no subscription cost, the only thing Trunk Club charges is a $25 styling fee, and that money can be put towards the items that you decide to keep!
It is a super fun experience, and my stylist always nails my personal style. You can set your trunks up to come automatically or you can just schedule one when you feel like it. I really enjoy doing it seasonally just to give my wardrobe a little update!
Click HERE to check out Trunk Club!
---
Stitch Fix is essentially the same thing as Trunk Club, but there are a few differences. Stitch fix does not send as many items, (typically 5 pieces) but I have found that the items they send are often more affordable. If you buy the entire box you get 25% off the entire purchase as well! With Stitch fix you have 3 days instead of 5 to get it shipped back out, so keep that in mind.
There is no membership fee and no required monthly subscription, but just like Trunk Club, there is a stylist fee that can be applied to whatever you decide to keep. However, the Stitch Fix fee is only $20!
If you are working on a tighter budget, I would probably go with Stitch Fix over Trunk Club, however, I will say that I have kept more items from Trunk Club than I have from Stitch Fix… but I really love Nordstrom, so that is probably why!
If you'd like to try Stitch Fix, use my link HERE!
---
Closet Clutter Maintenance
I hope this post gave you some good ideas, and some motivation to dive in and "date your wardrobe." Remember to do mini dates with your wardrobe often to determine if any of your pieces aren't making the cut anymore.
Each season, I re-evaluate my wardrobe again, and decide what should stay and what should go. By doing it this way, you shouldn't have to go through the massive purge again anytime soon, if ever!
Let me know how this process worked out for you guys!
---
Never miss a post…
---
Other Posts I think you would Enjoy! 🙂
– How to be Content with what you already have – 7 strategies proven to work! 
– Tips and tricks for how to stay Productive as a Work at Home Parent 
---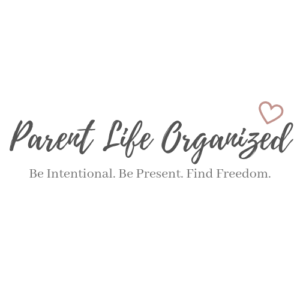 Love this content? Please share on social media 🙂 -